Former India cricketer Mahendra Singh Dhoni's wife Sakshi Dhoni seems to be a fan of south Indian food. On Wednesday, she gave us a sneak peek of her dinner plate — no prizes for guessing, it was a south Indian delicacy that is among her favourite dishes to eat. No, it wasn't dosa, idli or utthapam. Sakshi shared an image of a plate of kuttu paratha mashed with the goodness of some colourful veggies and curry leaves on her Instagram Stories. Sounds mouth-watering, isn't it? She captioned the photo, "My fav kuttu paratha!".
Kuttu paratha is a south Indian delicacy made with roti shreds and other masalas
In an earlier post last month, the foodie in Sakshi came to the fore as she shared a picture of a traditional Onam Sadhya feast. The thali had 22 food items served on a plantain leaf. Apart from Sakshi, even her daughter, Ziva, was seen relishing a similar-looking thali. Read more about it here.
(Also read : Ziva Dhoni Handpicks Veggies For Dinner; Guess What All Are There In Her Bucket)
Coming back to Kuttu, commonly known as buckwheat, is usually consumed while fasting. But that's for later. This variety of wheat, used in the preparation of several delicacies, has multiple health benefits. It helps regulate blood pressure, aids in weight loss and development of bone structure, reduces cholesterol, and prevents skin damage. If you want to include kuttu in your regular diet, we have curated a list of recipes for you that are great for your body and also for your taste buds:
This recipe involves the usual method of making puris, only that kuttu ka atta replaces regular wheat. It is a fasting staple on occasions such as Navratri, Shivratri, and Ekadashi. These puris have buckwheat flour mixed with potatoes and are deep-fried.
Cheelas always make for a healthy breakfast, and with the goodness of kuttu added to it, it becomes much more beneficial for the body.
Imagine this — crispy brown pancakes with dollops of maple syrup, but with a healthy twist. No compromise on taste, though.
In case you are fasting and want to avoid oil-based puris, go for crispy and healthy kuttu ka dosa. You can even stuff it with colocasia.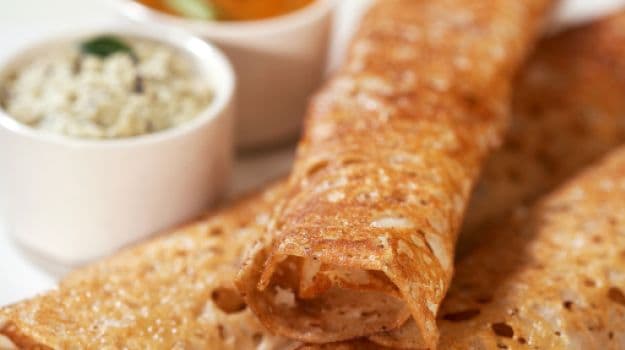 Kuttu ka dosa is just the crispy and healthy dish that you need
You're craving pizza but want to avoid flour? Substitute it with kuttu and bake a pizza which won't make you choose between taste and health.
(Also read : Kick-Start Your Mornings With These Healthy Kuttu Recipes For Breakfast)
Who knew the solution to the not-so-thin line between health and taste is buckwheat? Well, you sure do now.