National Refreshment Day 2021: National Refreshment Day is celebrated on the fourth Thursday of July every year. Here are few refreshing and healthy drinks that you can make at home to enjoy this day.
PUBLISHED ON JUL 22, 2021 11:52 AM IST 5 Photos
/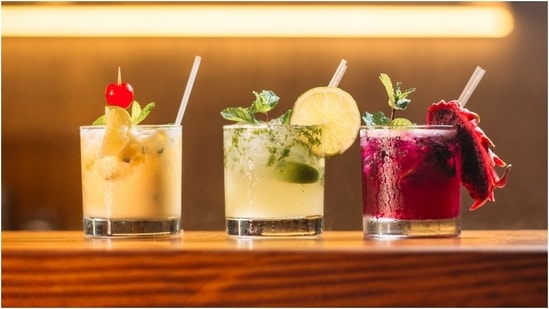 Today is National Refreshment Day, which is observed on the fourth Thursday of July annually to allow people to enjoy and detoxify themselves while having refreshments during the hottest time of the year. There are several ways to do the same, be it by drinking lemonade or pomegranate juice. Here are some refreshing and healthy drinks that you can try today to mark National Refreshment Day.(Unsplash)
PUBLISHED ON JUL 22, 2021 11:52 AM IST
/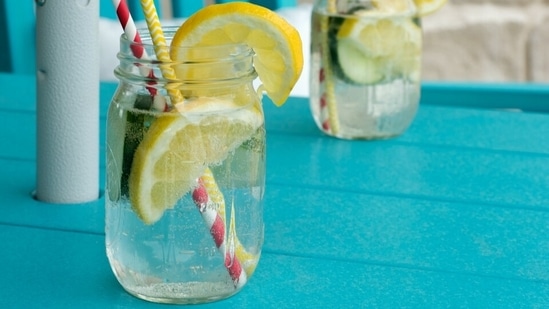 Cucumber Lemonade: A glass of cucumber lemonade can make your summers so much better. Instead of drinking soda to quench your thirst, you can make this easy drink at home without worrying about the calories and boost your nutrition. Add few cucumber chunks, water, honey, and lemon juice in a blender to make this drink. Once done, pour the smooth mixture through a strainer in a pitcher. Add still water with some lemon and cucumber slices and stir gently to combine. Enjoy!(Unsplash)
PUBLISHED ON JUL 22, 2021 11:52 AM IST
/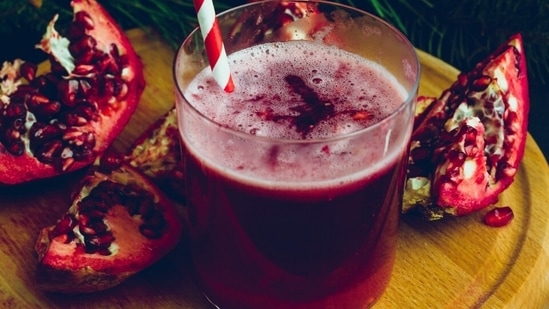 Pomegranate Juice: Pomegranate is an incredible supplement of antioxidants, and what better way to consume it than a glass of chilled juice. It packs in loads of vitamin C, is excellent for digestion, and has anti-inflammatory properties also. Pomegranates are also a good source of fibre. So, what are you waiting for?(Unsplash)
PUBLISHED ON JUL 22, 2021 11:52 AM IST
/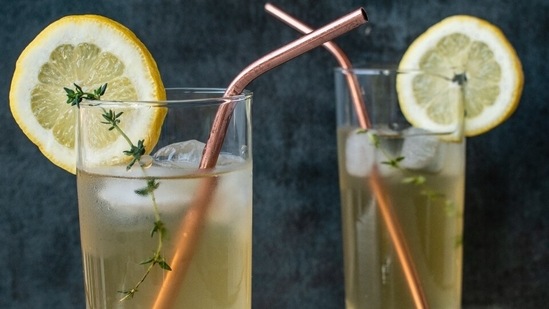 Iced Green Tea: Iced green tea with lemon and fresh mint is a refreshing beverage to try during warm days. Bring 2 cups of water to boil in a medium saucepan and add green tea leaves to make this drink. Let it sit for about three minutes, and then strain the tea. Add honey to the tea and mix. Now, pour it into a pitcher filled with lemon juice according to your taste. Add a few cups of cold water to the pitcher and serve with ice cubes, fresh mint leaves and lemon slices. Green tea contains healthy bioactive compounds and antioxidants, making it a healthy refreshing drink alternative.(Unsplash)
PUBLISHED ON JUL 22, 2021 11:52 AM IST
/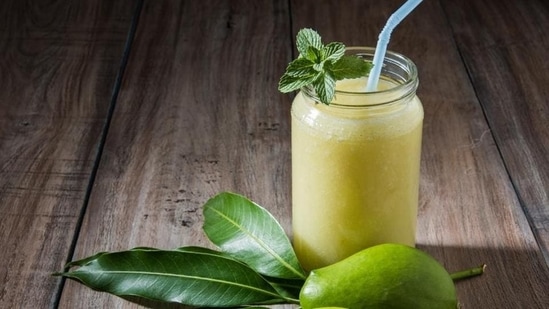 Aam Panna: This lip-smacking drink is made with, as the name suggests, mango or aam. To make this drink, one requires mango pulp, blended with cumin, jeera and mint leaves. It is a great drink to revitalise and energise yourself during sunny and humid days. Start by boiling the mangoes till they turn soft inside, and the skin gets discoloured. Cool the mangoes by keeping them on a rack and then remove skin and squeeze the pulp out. Blend the pulp with roasted and powdered cumin seeds, mint leaves, sugar, black rock salt and salt. Add 2 cups of chilled water, and serve with some ice cubes.
PUBLISHED ON JUL 22, 2021 11:52 AM IST